Ask any bridal wear expert to rattle off popular bridal dress forms in Pakistan and you are bound to hear traditional Mughal sounding names. Faaz Zariwala comes from a family of craftsmen who has dedicated their lives preserving the ancient art of Bridal Wear while adapting them to modern tastes. His father Mr. Saleem Yousuf owns BeQueen. His Bridal Wear studio is located inside Mateen Center, Tariq Road, Karachi.
Mr. Zariwala caters to local and International Clientele. His list of popular traditional bridal wear dresses included Sharara, Gharara, Maxi, Tall Maxi and Dhaka Pyjama. I don't know about you but that sure sounded like a trip to the ancient history of evergreen fashion museum.
The Mughal Emperors ruled the subcontinent from 1526 to 1707. Their reign lasted a hundred and eighty years. Today, the direct influences of the Empire live on in a modern-day state of Pakistan, India, Bangladesh and Afghanistan. The marriage between Persian and Indian Art is evident in the cuisine, language, architecture, religion and customs. It also makes itself felt in a very visual way in the form of fashion.
Sure the Mughals were into warring and conquering the land but they also developed various industries and made reforms that would allow for the people to live in peace. The emperor Akbar was responsible for the clearing of forests to promote agriculture and harvesting of cash crops like cotton in Bengal. So much so that it became responsible for 50% of GDP for entire India chiefly by its export of the Textile industry to most of Europe.
Since weddings in Pakistan tend to be bloated and fancy in nature, therefore it kind of makes sense that wedding dresses are inspired by the Mughals. Not only are the traditional custom-made dresses expensive, starting prices are worth three months of an average salary, but they also require hundreds of hours of craftsmanship. It is common for a dress to take three months to be fully completed. This should not come as a surprise knowing that the intricate embroidery and the use of precious materials require great care and precision.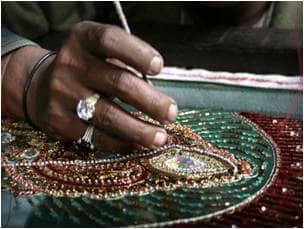 Below is a short description of the most popular wedding dresses namely Farshi Gharara and Gharara.
Farshi Gharara

The period in the 18th century was similar to the Industrial Revolution in the West. 40% of all Dutch imports were from Bengal for example. Europe was exporting a lot of gold and silver to India in exchange for Textile products like cotton and jute based products as well. It is no wonder then that the wealthy classes were inspired by the dresses of the noblewomen in Europe. Farshi Gharara or as it was formerly known, the Farshi Pyjama is inspired by the long gowns of Europeans. The dress involves gold work-based embroidery and pure silver threads. It was called Farshi because it is so long that it sweeps the floor. Expert wearers raise the extra cloth in their left hand after collecting the extra folds of precious cloth. It was a sign of wealth in Uttar Pradesh and women wear shorter versions of the traditional dress during weddings in Pakistan and India.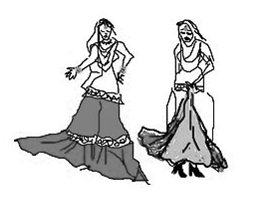 The Gharara has its origins in Lucknow. It has a Kurti (a mid-thigh length tunic) a veil and wide-legged trousers that give the illusion of a skirt because of the fact that they have wide frills at the knee area (Gota). It is here that craftsmen add silver and gold zardozi/ zari work which is sought after. It is notable that more than twelve meters of cloth go into the making of one such dress and it's usually made out of silk.
Muslim women championed the dress and it became associated with grace when the sister of the founder of Pakistan and the wife of the first Prime Minister of Pakistan regularly wore it.  It is used as a standard for female military doctors because of its dignified appearance and association. Ghararas are wildly popular in Pakistani and Indian weddings.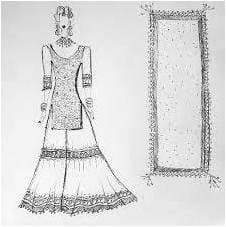 The female members of the Mughal court would reportedly change their clothes three to four times in a day. The wealthier of them would only wear a dress once before giving it away to someone else. Such was the extent of some household's wealth. Silk would be embroidered with gold and silver thread. These fabrics were very light and see-through at times. The shawls could reportedly be pulled out of rings of women, such was the delicateness of the handiwork. Artists would name their creations to reflect this attribute. Examples include Ab-e-Rawan (flowing water) and Daft Hawa (Air is woven into a dress). Not that it mattered to the wealthy but it was common for these dresses to be damaged after only wearing once.
Even though wedding dresses are still mostly worn only once but Mr. Faaz Zariwala of BeQueen Bridal Wear says that for obvious reasons modern-day adaptations are more sturdy and do not get damaged so easily. Favorite fabrics of his Clientele include Pure Chiffon, Pure Khaddi Net, Organza, Pure Silk, Pure Silk Chiffon, Mesuri Organza. (available in signature colours of Rose gold, Shiny Silver, Sand Gold & Dusty Gold)
The Mughals are famous for many reasons to this day however fashion takes the lead. They may be long gone but their fashion influences are felt even today.