The world is in a love affair with the colour red and it just can't seem to get enough of it. Valentine's day in the west, New year in China and weddings in Asia are almost completely painted red.
The colour enjoys a special status in the world of fiction too. Taking a red pill was a prerequisite to Neo learning what the Matrix was all about. The chosen one was not alone in not being able to escape its influence. Coke turned Christmas red from the colour, green and so today the Santa Claus proudly wears red all year round.
shiohkshiohkrmslotacekslotSlot Server thailand
It is the colour of fire and blood. It is the colour of determination, power, strength and danger. In Oriental culture, it represents joy and good fortune. Medically it evokes several interesting physiological reactions. Among the most common effects are increased metabolism and respiration rate that result in higher blood pressure. No wonder red is used to get reactions out of people. Website and street advertisement, food brands, traffic lights depend on the colour to get critical outcomes.
Red is also the colour of love and passion. Come Valentine's Day and the web as well as entire shopping malls are covered in the colour. Red coloured clothes and makeup elements like nail polish and lipstick are commonly used to depict eroticism and passion.
If you come to the subcontinent, women in India traditionally choose to put up a red dye on their forehead that is waterproof and a sign of a wedded woman. Pakistan is no exception to the rule. The colour is deeply entwined in the local culture and nowhere does it shows up in more glory than the local weddings. In Pakistan, the ideal weddings are huge, they are extended noisy affairs and most importantly they are red.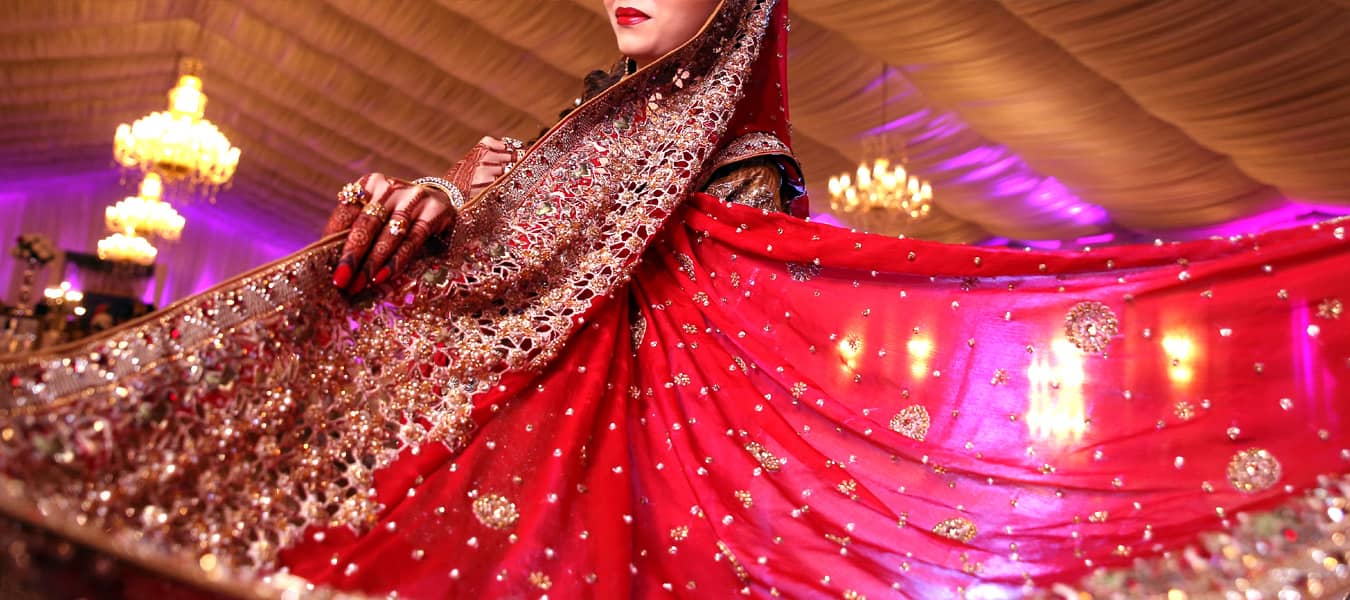 The venues, vehicles and the stage are covered in red roses. The bride and groom are led to the stage under a red coloured fabric held like a canopy by siblings, relatives and friends signaling to everyone who the center of attention is. Red finds its way in all shapes and forms at these elaborate affairs.
The famous Tariq Road in Karachi attracts a lot of wedding shoppers as it is home to traditional and modern wedding stores including bridal wear specialists.  We went to BeQueen which is a blend of the traditional and the modern and is located at Mateen Center, Tariq Road. They have been in the business for the last forty years and specialize in made-to-order dresses.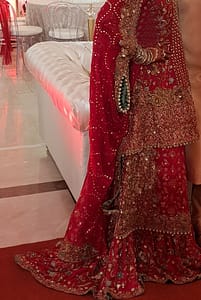 Mr Saleem Zariwala, the founder, shared that ninety percent of all orders received are in the colour red. To the masses, a bride does not look like a bride if she chooses to wear a colour other than a shade of red or maroon. The culture has trained our collective consciousness to expect a bride to be donned in the colour red. According to Mr. Saleem, it's just not the same when the bride is wearing a different colour. Under his guidance, the team at BeQueen resorts to a wide range of methodologies and the common theme among all orders is the red colour. ''People come to Tariq Road to choose from a wide variety of stitching techniques, materials and fabrics. This is their way of honoring their important life event and timeless traditions,'' said Mr. Saleem. The made-to-order dresses on display presented testimony to the kind of rigor and attention that goes into creating just one dress. ''We are bogged down by customers in the wedding season. We have to strictly cater to Clients who have made their appointments beforehand. Some Walk-In customers are not pleased with not being able to speak their hearts out but we do not have a choice in the matter. Each dress is a detail-oriented journey that requires countless hours of planning, selection and coordination between craftsmen at different stages of the dress production. There are over Methods that are so elaborate and detail-oriented that it's a norm for the customers to order their fabric at least two months in advance. It goes without saying that most of these custom dresses come in the colour red.''
Mr. Faaz, the youngest son in the business chimed in that although he provides shoes, clutches and even caters to the groom in the reflection of the bride's attire, he has yet to meet a customer who will not have their heart set on the colour red in one form or the other.
Such is the state of the colour red that is so integrated into all nooks and crannies of society that it represents life itself.